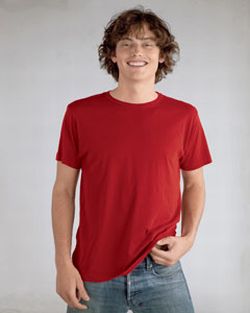 View Larger Image
Brand:
Alternative
Gender:
men
Age Group:
adult
(aa1070a)

Alternative Men's 3.7 oz. Tear-Away Label T-Shirt

Available Sizes:
S,M,L,XL,2XL,3XL
View Size Chart
Available Colors:
apple red, army, asphalt, black, bordeaux, brown, camo, cigar, concrete, cranberry, cream, dark purple, forest green, grass, heather grey, kelly, light navy, midnight, mustard, orange, pigment black, pigment bordeaux, pigment brown, pigment fatigue, pigment mustard, pigment red, powder blue, royal, rust, silver, turquoise, white
View Colors
*Standard Embroidery Designs are included in the price of the item.*Prices are discounted for Screen Print Designs that are less than 6 colors.
Pricing (with Standard Embroidery)
QTY
1-11
12-49
50-99
100-299
300+
$19.67
$17.48
$16.39
$15.30
Decoration:
Embroidery Fees
|
Screen Print Fees