Customize Apparel Online
$5 Standard Embroidery
Quick Turnaround
For most products with the exception of t-shirts we recommend using embroidery to decorate your garment. If placing an order for a large quantity of items screen printing can become more cost affective. Other factors to consider while choosing your method of personalization inlcude the number of colors in the design, the size of the design, and the number of smaller details in the logo. For a list of pros and cons of custom embroidery and custom screen printing CLICK HERE. You can also give us a call for assistance with making a choice between embroidery and printing.
---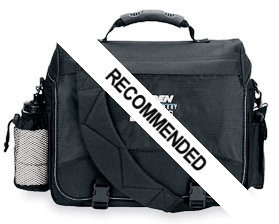 *Recommended Products are products we feel offer the best quality for the best price. Look for the recommended ribbon as you browse our products.
Bags - Chosen for their durablity and modern design.
Hats - Baseball caps and visors that will keep you cool and that look good personalized.
Jackets - Logo jackets that will look great, feel great, and keep you warm.
Polo Shirts - Business casual golf shirts that are suitable for a company logo.
Pants & Shorts - Sweats that will last the wear and tear of the great outdoors.
T-Shirts - Custom t-shirts should be cheap in price but not in quality and that's how we picked them.
Tailored Shirts - Monogramed dress shirts with a modern look & feel. Backed by Popular Demand.
---
Save money by taking advantage of our many discounts and offers. To see a detailed list of the Ways You Can Save, Click Here
Embroidery Starting at Only $5
No Setup Fees on Stock Embroidery Designs
Quantity Discounts - The more items you order the less you pay per item.
Facebook Discounts - Receive up to 15% off your current order.
FREE Shipping on Orders over $150. Use Coupon Code freeship150 during checkout.
Upload a photo of you with your customized gear and receive a 15% discount on your next order and be entered into our Photo Contest for a chance to win a $50 gift certificate.
Discount Pricing for Prints with less than 6 Colors. Website pricing includes up to 6 color printed colors. If your design has fewer than 6 colors a per item discount will be applied.
---
Overall Ratings (scale of 1-5):
Would You Buy From Us Again?

*Results are based on the last 50 reviews.
04/21/2015, 9:09 AM (EDT)
"I've ordered the same items with the same logo before (years ago) and I am very pleased with the improvement of the stitching. It is much more "...Read More
-Jaymie
Honolulu, HI
04/17/2015, 8:10 AM (EDT)
"Thanks!"
-Mike G.
Nutley, NJ
04/08/2015, 1:46 PM (EDT)
"Very happy with our order, and quick, friendly service. Thank you!"
-Christen W.
Rocky Hill, CT
WHAT WE OFFER THAT OTHERS DON'T!!
Lowest Pricing for Online Custom Embroidery! We'll match and beat the price of any of our competitors.
Excellent Customer Service! We take the time to address the needs of all our customers.
Unmatched Quality! We pride ourselves on carrying top quality apparel.
No Minimums & No Setup Fees on Stock Designs! Choose from any of our over 22,000 stock desigs.
Quick Turnaround Time on Orders! 1-2 week delivery time on non-rush orders for personalized apparel.
Only 12 Piece Minimum on Screen Print Orders!
Easy to Use Personalization Process! We use a step by step approach of questions and answers.
Over 1,500 Customizable Products! From Victoria's Secret underwear to Ashworth golf shirts, you name it we have it.
---
Shop for Personalized, Logo, Embroidered Apparel
Corporate Shirts | Customized Embroidered Shirts | Embroidered Bag | Logo Jackets | Personalized Logo Shirts | Embroidered Baby Clothes | Custom Embroidered Apparel | Custom Embroidered Polo Shirt | Embroidered Bag | Personalized Embroidered Baby Clothes | Personalized Polo Shirt | Personalized Towels | Embroidered Jackets
Womens Sweats